Lorenipsum Nail Polish Sticker
· Nail strip Stickers made of 100 manicure to be easily attachable on your nails.
· Light feeling after attaching this on your nails.
· Lasting 14 days after attaching it on nails.
· Even after washing your hair & hands.
· Non-toxic & Breathable sticker for your nail health.
· Possible to print real Photos on this product.
· Any scent desired is available.
· Even children can use this thanks to Non-Toxic material.
Lorenipsum V.S. Regular nail sticker
Lorenipsum
Nail stickers
Top coat
Top coat polish no required
(Base+design+top coat, all-in-one)
Requires top coat finish
Ingredients
100% real polish
Plastic vinyl
Adhesive
Verty strong
Very weak
After apply
Lasts up to 14days
Lasts up to 5days
Comfort
Excellent comfort, breathable function
Discomfort, non breathable plastic
Removable
Remove with nail polish remover
Cannot use nail polish remover
Material
Enamel top coat
Plastic vinyl
Safety
Non toxic & breathable
Toxic & Allergens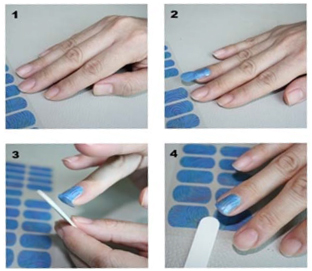 Instruction on how to apply
01. Prepare to apply strips onto your nails.
02. Select the design/size and apply onto your nails. Also, gently stretch the strip for a perfect fit.
03. Remove excess strip by filling 45 degree angle downward motion
04. Finished